If there's anything Jack Horner wants you to know, it's that "Birds ARE dinosaurs."
Earlier this week, my fellow Sciren Taryn O'Neill and I attended a special event at the Natural History Museum of Los Angeles where the enthusiastic paleontologist, who has served as a science consultant on all the Jurassic Park films, talked about the real science behind the science fiction in the upcoming Jurassic World. Horner is a professor at Montana State University and curator of paleontology at The Museum of the Rockies. He has personally named twelve dinosaurs and is reknowned for his work with the the Maiasaura and his study of their nesting behaviors.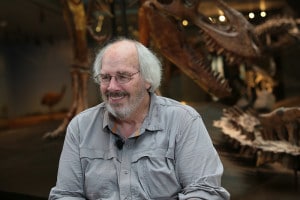 Paleontologist Jack Horner participates in a "Jurassic World" Q&A
at the Natural History Museumin Los Angeles, CA (Alex J. Berliner/ABImages)
Jurassic World, the latest installment of the movie series, takes place twenty-two years after the disastrous events of Jurassic Park. Founder John Hammond's dream has been realized and a full-fledged dino-theme park now flourishes on Isla Nublar, an island off the coast of Costa Rica. Attendees at the luxury resort can experience everything from Sea World-like aquatic performances by a shark-eating Mosasaurus to a petting zoo where kids can ride on mini-Triceratops to (supposedly) safe viewings of dinosaurs roaming the park in a contained manner.
You'd think this would be enough to keep people coming back again and again to the Jurassic World theme park, but after several years in operation, the novelty of seeing real dinosaurs has begun to wear off. To foster return visits and keep the dollars flowing, geneticist Dr. Henry Wu (BD Wong) has been charged with engineering new, genetically modified dinosaurs. And just like a movie sequel, he's been given the directive to go Bigger and Better. Enter Indominus rex, a massive, mysterious new breed whose capacities are still unknown.
Nothing could possibly go wrong, could it?  
We'll leave the official reviews of Jurassic World to the movie critics. We Scirens were at the Natural History Museum to hear from Horner about the plausibility of the creation of a real-life Jurassic World. Because seeing a dinosaur up close would be pretty damn incredible!
And that brings us back to birds. "Things we think of as 'birdlike,' dinosaurs invented first," said Horner. The paleontologist believes that the ancestral relationship between birds and dinosaurs becomes clear when instead of looking at their differences, we look at their similarities, which include feathers, three-toed feet and hollow bones.
Owen (CHRIS PRATT) attempts to keep the raptors at bay in "Jurassic World".
Notice the number of toes...
He's currently working on developing a "Chickenosaurus" aka "Dino-chicken." His approach is much like that of cancer researchers who study when and how certain genes are turned on and off. Ostensibly, birds carry ancestral dinosaur DNA. By looking at the living DNA in a bird embryo and attempting to figure out when certain characteristics are suppressed, the hope is that scientists will then be able to reverse that process and turn them back on, transforming wings into arms and hands, or engineering a bird with a tail.
Just a few weeks ago, the journal Evolution published the findings of a team from Yale and Harvard who created a chicken embryo with a dinosaur-like snout and palate. Said Horner, "That's a proof of concept. We know we can do it."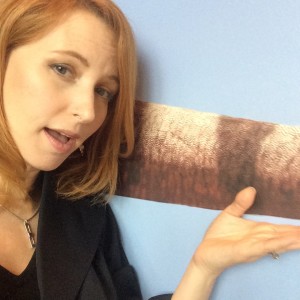 Sciren Tamara Krinsky contemplates reverse-engineering birds to give them a dino-tail
at the Natural History Museum in Los Angeles.
When asked if chickens had any special properties that made them the best candidates for this kind of research, Horner laughed, responding, "It doesn't really matter what bird you use, once we have the technology. Chickens are the most available."
Dino-engineering techniques are one of several ways that the Jurassic movies take liberties with science fact in order to serve the storytelling. In the original film, the dinosaurs were created transgenically - pieces of dinosaur DNA recovered from preserved mosquitos were combined with frog DNA to make the prehistoric creatures. According to Horner, this is actually not possible in real life because dinosaur DNA just doesn't last that long – it basically starts coming apart as soon as a cell dies. That's why he's using the reverse-engineering technique for his Chickenosaurus project instead.
Fact and fiction also parted ways on the first Jurassic Park movie when Horner and director Steven Speilberg had some arguments about what the dinosaurs should look like. Horner wanted them to be more true to life - colorful and feathered - "But Steven had a good point that Technicolor dinosaurs just aren't as scary."
Even though the public might now be willing to accept (and be terrified by) more brightly hued, feathered creatures, the dinosaurs that appear in Jurassic World retain the coloration and textures of those in the previous films. Explained Horner, "Jurassic World and Jurassic Park are all one story. We cloned them in '93, so they need to look the same. We need consistency across the one story. We can always make the excuse that we didn't have complete DNA. They used frog DNA [in Jurassic Park] and frogs don't have feathers."
There were no arguments on set about what the dinosaurs should sound like. After all, what would a scary movie about prehistoric creatures on the loose be without their terrifying roars echoing through the jungle? Even though all were on board regarding the dino-vocalizations, Horner admitted that the sound effects were a product of filmmaking imagination, as scientists don't actually know what dinosaurs really sounded like. "We have them growling and making all kinds of noises [in the film], but I have no idea if they made any of those kinds of sounds."
One thing that Horner is fairly certain about is the effect that the Jurassic Park movies have had on the real life study of dinosaurs. He said, "Before Jurassic Park came out, I had a few students and they were all guys. After the first two movies, I had a flood of students and it was [an equal gender split] 50/50."
We Scirens met this statement with a roar of approval, for it supports our hypothesis that science-infused entertainment can be a gateway drug to a deeper dive into STEM topics in real life.
Jurassic World opens in theaters in the United States on June 12th, 2015.